13
Aviatrix Kickstart UI - Spin up Cloud Networks in Minutes
Introduction
Kickstart UI deploys cloud and multi-cloud networks in minutes without any effort. Once the hub/spoke transit network is built in the cloud, it will act as a core networking layer on which one can add more use-cases as needed later.
The lightweight automation script deploys an Aviatrix controller and an Aviatrix transit architecture in AWS (and optionally in Azure). Everything is self-contained in a docker image. You do not need to install anything besides docker run time on your laptop/desktop/VM/instance.
This costs less than $1 an hour as shown here:
| | | | | | |
| --- | --- | --- | --- | --- | --- |
| Description | Unit Cost | Quantity | Hourly Cost | Cost for 8 hours | Cost for 24 hours |
| Aviatrix Controller in AWS (t3.large) | $0.09 | 1 | $0.09 | | |
| Aviatrix Gateway in AWS (t2.micro) | $0.01 | 3 | $0.03 | | |
| Test instances in AWS (t2.micro) | $0.01 | 2 | $0.02 | | |
| Aviatrix Gateways in Azure (B1s) | $0.01 | 3 | $0.03 | | |
| Aviatrix Encrypted Peering | $0.16 | 4 | $0.64 | | |
| Aviatrix Transit Peering | $0.16 | 1 | $0.16 | | |
| Total Cost for MCNA Kickstart (including minimal network egress charges) | | | $0.97 | $7.76 | $23.28 |
Note
Customers/students/partners are responsible for paying all the cost for running the instances in the Cloud (AWS/Azure/GCP/OCI/etc) and Aviatrix tunnel cost
The estimated cost for the introductory lab is USD $1 per hour
Additional use-cases/labs would require additional cost depending on the instances deployed and Aviatrix tunnel build
The Aviatrix cost breakdown is listed on AWS marketplace when you subscribe to the Aviatrix Controller
Open Source
Kickstart UI code is Open Source and available at https://github.com/AviatrixSystems/terraform-solutions/tree/master/kickstart/
Kickstart is packaged as a container image that could run locally on the Windows/Linux/MACOS laptop/server/VM or EC2 instances. The container code is available here
Launch Kickstart UI
Before launching Kickstart UI, run the following commands in the CLI console.
[shahzadali@shahzad-ali ~ % docker volume create TF
[shahzadali@shahzad-ali ~ % docker run -v TF:/root -p 5000:5000 -d aviatrix/kickstart-gui


Now in your web browser type http://0.0.0.0:5000/ and then follow the workflow.
Standard UI Workflow
Standard is the recommended workflow. This will deploy the controller and topology in the regions specified in the diagram.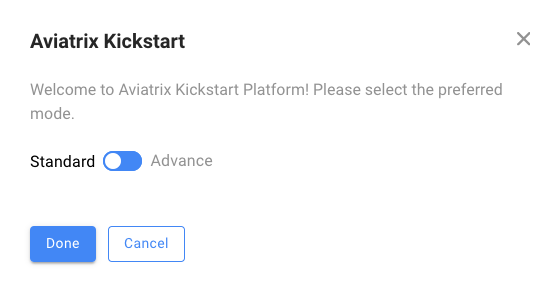 Provide AWS credentials
Launch the Controller. AWS is the only option today. In the future, we might add the option to launch in other Clouds.
Launch Global Transit (Hub) and two Spokes in AWS
Deploy test EC2 instances (Linux VMs) in their respective Spoke VPCs for testing
Upon success, you will receive the necessary public and private IP addresses. Now you can log in to Aviatrix Controller UI and test connectivity and use-cases as necessary.
The entire process should take somewhere between 22-30 minutes.
Advance UI Workflow
Advance mode is for users who would want to change the region, naming convention, and subnet scheme.
Now specify the AWS credentials
Before launching the controller, you can change the region and other details as shown in the following screenshot
Launch Global Transit (Hub) and two Spokes in the AWS region as per your requirement
Deploy EC2 test instances in their respective VPCs now
Optionally, you can deploy Transit in Azure as well
Destroy / Delete the entire LAB
To destroy or delete the entire network, use the "Destroy" option on the top right of the browser UI.

Troubleshooting
The debug option or icon inside the UI will provide you necessary run-time logs.
You can also check the Kickstart UI API Status here
http://0.0.0.0:5000/api/v1.0/get-statestatus
To log inside the container image
shahzadali@shahzad-ali /Users % docker ps
CONTAINER ID        IMAGE                                   COMMAND                       CREATED             STATUS              PORTS                    NAMES
4a75b428ff5b        aviatrix/kickstart-gui                  "/bin/sh -c 'python3…"      2 hours ago        Up 2 hours     0.0.0.0:5000->5000/tcp       laughing_matsumoto


shahzadali@shahzad-ali /Users % docker exec -it laughing_matsumoto bash
To delete docker volume try following
shahzadali@shahzad-ali ~ % docker volume remove TF
Error response from daemon: remove TF: volume is in use - [4a75b428ff5badf368f1dc9761c51b903652d8cfa4da70b2bdd543be3d352fea, 7f54de5c900d28d23ea61965423394534fe40dd769b20ff78f3a31c1fa98987d]
shahzadali@shahzad-ali ~ %

I had to run the following command to delete

shahzadali@shahzad-ali ~ % docker volume remove TF
Error response from daemon: remove TF: volume is in use - [7f54de5c900d28d23ea61965423394534fe40dd769b20ff78f3a31c1fa98987d, 4a75b428ff5badf368f1dc9761c51b903652d8cfa4da70b2bdd543be3d352fea]
shahzadali@shahzad-ali ~ % docker system prune
WARNING! This will remove:
  - all stopped containers
  - all networks not used by at least one container
  - all dangling images
  - all dangling build cache

Are you sure you want to continue? [y/N] y
Deleted Containers:
7f54de5c900d28d23ea61965423394534fe40dd769b20ff78f3a31c1fa98987d
4a75b428ff5badf368f1dc9761c51b903652d8cfa4da70b2bdd543be3d352fea
c6de98c3284e8afdf5cff8f9b45266acf1e4bebf34a2ce0f7a20aa92342a43e5
6227ecf90cf4100b1a1391038171e8ae5dd0cff4f3a7007e4f675360396913da