Important Annoucement
 
Customers are encouraged to use new and improved SaaS Self Service tool called Aviatrix Self Service Launch Tool (SSLT) for
All Aviatrix ACE Training and Certification requirement (such as ACE Cloud Operations, ACE Cloud Automation, etc.)
POC / POC
Demo
Product Deployment
etc.
1. Introduction
Proof of Aviatrix Controller and CoPilot Deployment is a pre-requisite for ACE Cloud Operations training. Prior to attending ACE Cloud Operations, you must follow the steps detailed in this article in order to get certified for ACE Cloud Operations.
Allocate up to 2 hours to conduct this prerequisite assessment.
2. Step 1
Run Sandbox Starter Tool using this Community Post as a starting point.
Run it in Advanced Mode. Use the default Metered Platinum mode option for Controller License type.
Enter allowable VPC CIDR and VPC subnet ranges for your Controller, AWS Transit, and Azure Transit.
Enter resource names of your choice.
Once it completes, capture a screenshot of the Success screen that clearly shows the Public IP of your Controller, such as this: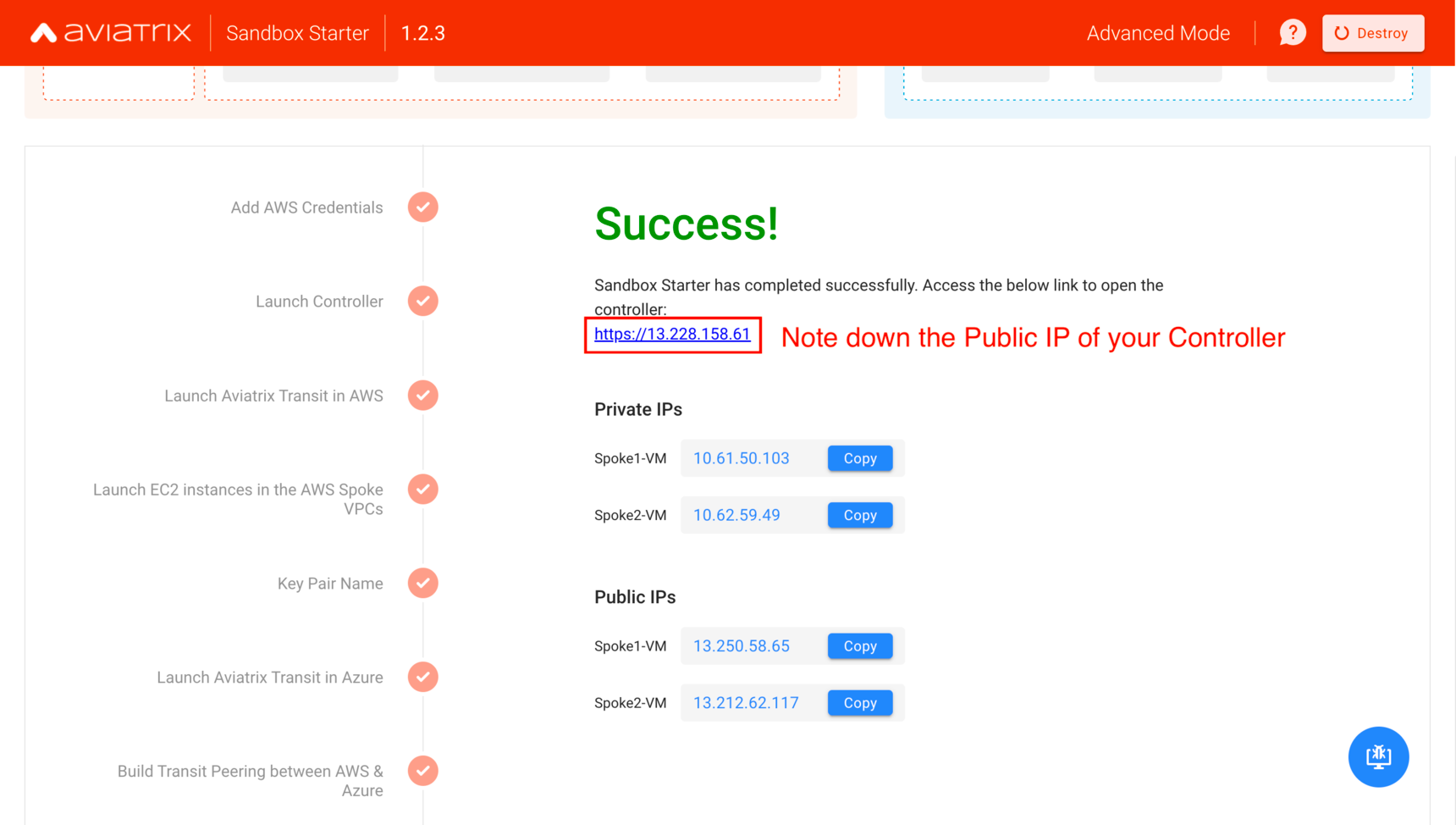 Note down the Public IP address of your Controller
3. Step 2
Log on to your Controller as follows: https://<public-IP>.
Rename your Controller ID in the top-right corner. Simply click on it and replace the text with the same email address that you entered when you launched Sandbox Starter Tool.
Capture a screenshot of your Controller that clearly shows the Public IP in the URL bar, such as this:

Email the 2 screenshots to ace-cloud-ops@aviatrix.com with the Subject ACE-SST no later than 1 day before the start of the training.
If you would like, feel free to experiment and run test cases for Sandbox Starter Tool. When you are done, click the Destroy button in the top-right corner of Sandbox Starter Tool to destroy all resources that were created by the tool.
Note: Any constructs (such as VPCs, VNets, or Aviatrix gateways) that you create manually from the Controller UI after launching the Sandbox Starter Tool must be deleted manually as well prior to clicking the Destroy button.