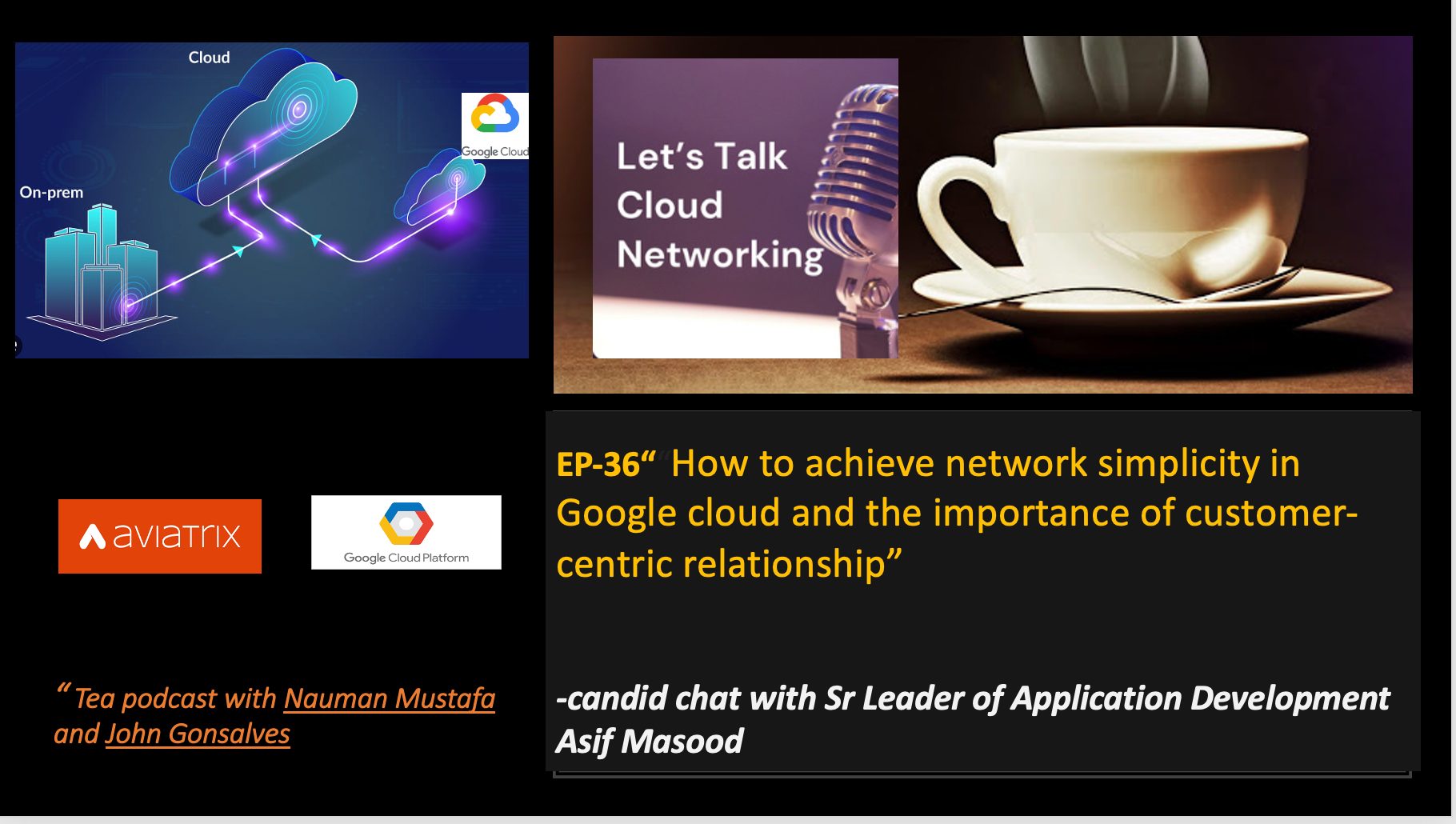 A candid chat with Sr Manager of Application Development Asif Masood 

 

In this episode Asif shares some golden nuggets learned during his extensive career in technology. From mainframe programmer to managing databases, transitioning to leading back-office architects at Sear Holdings Corp where he also led the migrations into AWS. 
His most recent role at True Value where he was the Senior App Dev Manager leading infrastructure migrations from on-prem into GCP and where he ran into and met the folks at aviatrix.

Some golden nuggets and words of wisdom from Asif:

As each cloud providers close the gaps on core capabilities, cost is becoming an important deciding factor on which cloud provider to use - AWS is the most mature but could be too expensive for many customers 
GCP offered the most cost effective option for windows migrations
Using cloud MSP partner (HCL) helped them get best pricing as they were already embedded at true value providing managed support 
Manual and DIY  cloud networking creates risk and potential outages: 

Aviatrix has the easiest way to set up routing in the cloud and even outside of the cloud without needing to do manual work.
Making routing changes to multiple VPC in GCP was easy because of Aviatrix automation. 

Single pane of glass for management and maintenance was key deciding factor for True value  on Aviatrix
Without Aviatrix it would have been many hours of manual work 

Horses for courses:

Each cloud provider has its strengths and applications and underlying networking and security should be developed to be cloud agnostic and portable.
simplicity, less points of failure and less headaches with Aviatrix.

Working with Partners:

True value believes in true design partnership and value Aviatrix customer for life relationship mindset .
"Aviatrix was with us every step of the way to help solve problems even if it's not an Aviatrix problem".
Don't plan cloud migrations on a weekly basis because there is always some fall to deal with
Employee Burnout

You don't want to have people burnout especially for long projects so look after them and give them breaks

Tune in and listen to more from Asif!

https://lnkd.in/exWhaE-N